XDN DigitalNote CO Round 1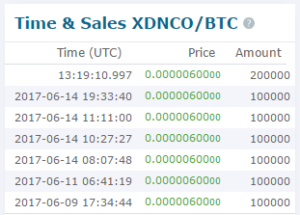 The first round of XDN DigitalNote CO is about to end, with a total of 8 lots being sold at 600 per XDN (0.6 BTC) per lot (100,000 XDN). The price of Round 2 will be 700 per XDN (0.7 BTC) per lot, which is starting on Friday 16 June 2017 at 13:00 ETC.
However, the ICCO is far away from achieving its target, with more than 12,400 XDN lots being available in the next two weeks only. The CO Round 1 only raised 4.8 BTC of 7,500 BTC (according to its 600 price). Since we have not heard anything yet from XDN Core Developers, we are not sure if this is a strategic tactic to push sales in Round 2 and 3 to sell each lot at 0.7 BTC and 0.8 BTC. Therefore, we are watching the CO Round 2 to see whether that is the strategy or not. As XDN community members still believe that core developers are working behind the scenes to build something that will turn XDN ICCO into a successful campaign.