XDN DigitalNote CO Round 2
Okay, after waiting for more than a week to hear something from the DigitalNote core developers, they finally showed up with a few updates.
First of all, XDN DigitalNote CO Round 2 just started today, which is selling at 700 per xdn (0.7 BTC per lot). With only 9 lots being sold last week, XDN community members, particularly whose funds are locked up in the ICCO wallet, are not happy with that. That being said, in order to have a successful ICCO, XDN needs to sell at least 500 lots per day at the beginning of the campaign, but since it is far from that, there are still 12,511 lots to sell at 0.7 BTC and 0.8 BTC next week, which is the final week for the ICCO campaign. So that is concerning all members of XDN community as it does not sound realistic to sell at least 893 lots per day. Therefore, there are ongoing discussions to sort this out.
Second, XDN de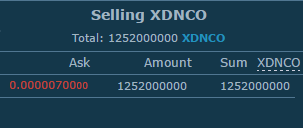 velopers are considering two options at the moment hoping to increase sales. One option, however, is to create more selling points such Changelly, and DigitalNote official website in order to make it easier for investors to get their XDN lots instead of having them exclusively on HitBTC. The second option is to create more promotional channels to create awareness of the campaign. However, we believe that it is too late for the second option and probably for the first one as well if there are no investors lined up to buy from the ICCO.
And third, there have been arguments regarding the voting claiming that it was greedy to ask to start the campaign at 600, with a 100 being added up each week, XDN ICCO is going to sell at 800 per xdn next week in the final round of the CO. However, we believe that the price is not the major issue as the value proposition is missing. Hence, it does not matter if the ICCO price started at 200 or 800 since the sale is not backed up with value offerings that motivate buyers to invest.