XDN DigitalNote Market Uncertainty
The market is reflecting negatively on the uncertainty of XDN DigitalNote ICCO as the huge amount of funds locked on XDNCO wallet are expected to re-enter the free market, which should increase the supply drastically. Hence, it is not surprising to see the price drops to as low as 132. However, XDN DigitalNote price surged as high as 350 before the CO Round 1 started. After the community members voted to start the sale at 600 per XDN (0.6 BTC per lot), the current CO price is 700 (0.7 BTC per lot), and should increase on the final round by Friday this week to 800 (0.8 BTC per lot).
Moreover, XDN CO did not record any more sales with only 9 lots being sold to date, that is only 5.4 BTC raised so far. With a total of 1.25 Billion XDN locked in the CO wallet, the campaign is struggling to make any further progress towards achieving its target.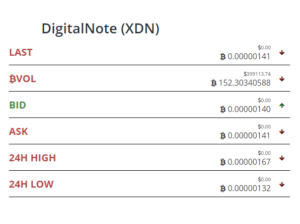 XDN Developers, however, have arranged a number of meetings last week with other CrytpoNote Developers. Drawing upon fundamental aspects of the CryptoNote technology, there must be some collaborations behind the scenes to improve it. Furthermore, XDN Developers believe that investors are unlikely buying from HitBTC and there are negotiations for opening new channels to sell XDN lots to them such as Changelly.
According to XDN RoadMap, the developers are still working on the developments as planned, including XDN E-Commerce Payment Solutions to launch on September this year. Therefore, the community members are still holding as they believe that the project is still invaluable and will surely recover once these developments come out.