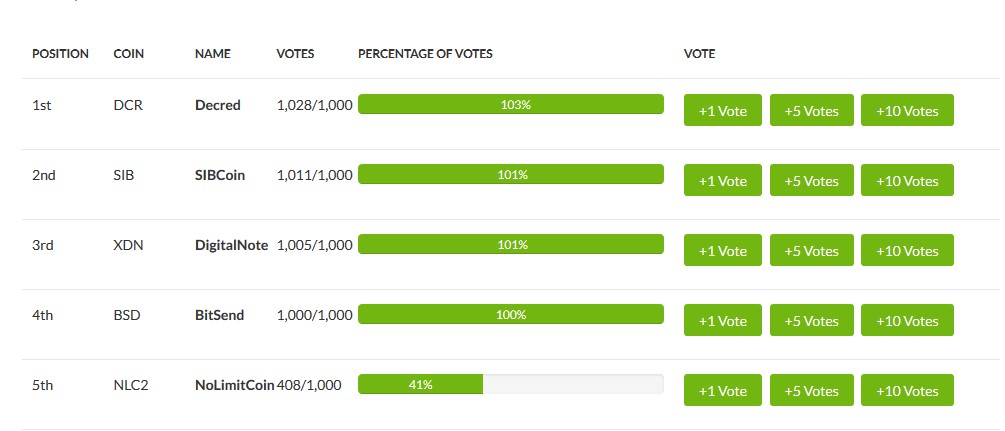 XDN Secured 105% of CoinPayments Votes
DigitalNote has secured its place on CoinPayments, the Crypto Payment Gateway, with 1005 votes (105%) in less than three weeks. XDN was falling short, starting the third week with as low as 200 votes (20%) of the required number, it has acquired the rest of the votes in less than 48 hours.
Why Does CoinPayments Offer DigitalNote Community?
First thing first, CoinPayments is a Crypto Payment Gateway that is connecting buyers with online merchants to pay for goods and services using digital currencies. That said, it applies PayPal model, but with digital currencies instead of fiat such as USD, GBP, and EUR.
We posted an article at the beginning of the voting window "Why Listing XDN on CoinPayments" to explain the benefits of achieving this milestone. To summarise, this will help XDN increase its user-base as buyers will be able to use it to pay for goods and services online. We also gathered some data about the currencies supported on CoinPayments, and we found that they gained 300% in value after being listed on the gateway.



The main advantage for CoinPayments is that it offers the payment gateway for major CMS such as WordPress and WooCommerce. Allowing anyone to install the plugin easily on their website and sell their products using digital currencies.
DigitalNote community is celebrating this achievement and preparing more milestones to achieve over the summer.
XDN Future
DigitalNote developers are still working according to their RoadMap. We are expecting further announcements about XDN Mobile Messenger 3.0 soon. The community is also working to expand on more exchange platforms to strengthen its position in the crypto industry. Subscribe to our Newsletter to receive our updates, and follow our Twitter @XDNCommunity
If you have any questions please let us know by the comment box below.
P.S Thanks to all the community members who contributed to this.