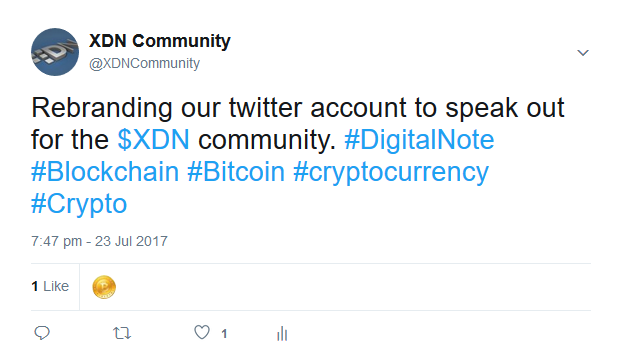 XDN Community Latest Updates
We have got a number of community initiative to cover in this article such as coinpayments voting, digitalnote paper wallet, and xdn giveaway.
We also wanted to announce that our Twitter account has been updated to @XDNCommunity
This account is responsible to speak out for the community and provide the latest updates, including all the activities being conducted by the community members.
We encourage all XDN supporters to help out with our community initiatives, which are summarised as following:
XDN CoinPayments Voting
A total of 95/1000 (9.5%) votes are secured so far to list XDN on CoinPayments.
Please vote to list XDN on Coinpayments as soon as you can at https://www.coinpayments.net/vote
We published to articles explaining why XDN needs to be listed "Why Listing XDN on CoinPayments" and "XDN DigitalNote on CoinPayments".
XDN DigitalNote Paper Wallet
XDN Community members developed this tool to help DigitalNote users generate a paper wallet. We posted an article on that "Generate XDN Paper Wallet".
50k XDN Giveaway
There are a total of 50k XDN allocated for XDN giveaway campaign. All you need to do is to signup for XDN Ryver Community using the following link and share you DigitalNote wallet address to receive 100 XDN for that. For more details, please read this https://steemit.com/steemit/@mahsel/100-xdn-cryptocurrency-giveaway
Cryptocurrency Exchange Platforms
Listing XDN on more cryptocurrency exchange platforms is being discussed by the community members. As listing the currency often requires a fee, there has been talks to co-fund a wallet in order to get the currency listed. This is another initiative to improve XDN position in the crypto industry.
Please subscribe to our newsletter to receive the latest updates and follow us on twitter @XDNCommunity